July - 2021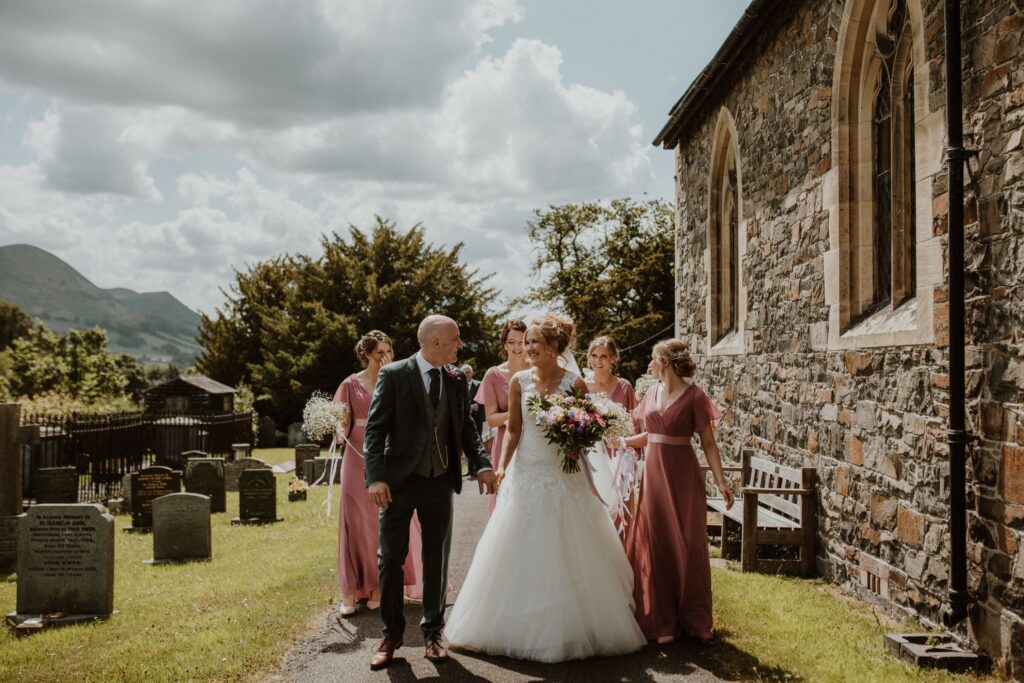 Could there be anywhere more perfect to get married!? We doubt it!
We just wanted to message to say thank you so much for the most wonderful weekend! Lou, (wedding coordinator) was amazing!
She thought of solutions to problems before we even realised there was a problem. She was organised, reassuring and just a lovely person to spend time with! Thank you so much for making our wedding go so perfectly. The bar staff were also fabulous! Nothing was too much trouble. After the postponement and all the zoom calls we are so pleased to have finally got the wedding of our dreams. You have all been wonderful right from day one. Could there be anywhere more perfect to get married!? We doubt it! With all our thanks and very best wishes.
- Laura
September - 2021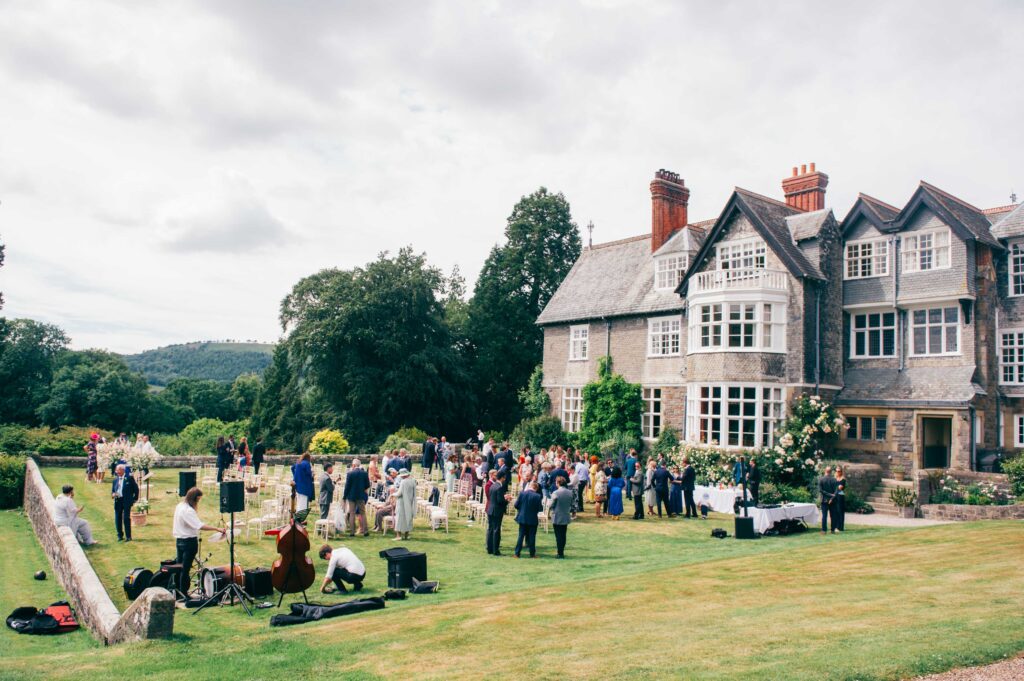 The most magnificent and Beautiful Country House
We were lucky enough to find Plas Dinam on a search for possible wedding venues last year and we are so pleased that we found it. We booked the house for the whole weekend and filled all of the rooms with our closet friends and family for the most magical wedding ever! The old stables, which we decorated for our wedding reception were beautiful, the grounds and gardens were superbly kept and hosts were fantastic in the run up and during the weekend! We could not recommend a better place to get married or spend a long weekend with friends and family!
- Kate B
August - 2019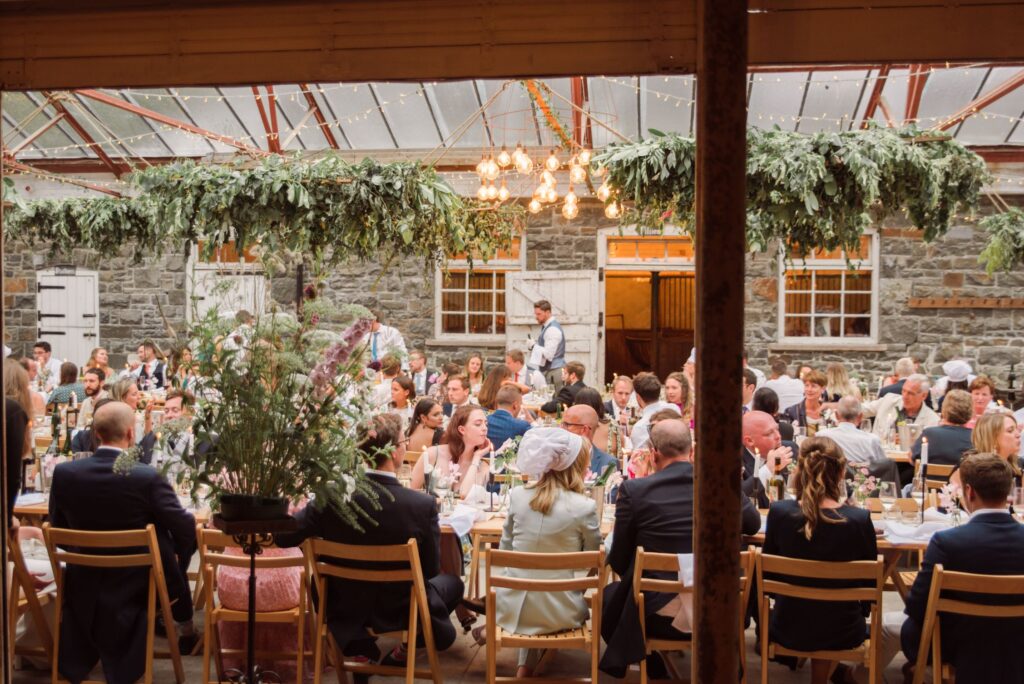 Dream wedding venue
If you are looking for the most idyllic countryside setting for a DIY wedding, Plas Dinam is the perfect venue. We were excited from the pictures but fell in love with it as soon as we drove up the driveway.
The beautiful main house is constantly being tweaked and updated so for an old house it feel remarkably fresh and pristine. The grounds and the stables are gorgeous and plenty of room for 130 guests.
Utilize the heavenly Julie as much as you like (we fell in love with her as much as the venue!) but equally if you have your own ideas of what you want you have all the freedom to run with it. Tyson is also always on hand for any practical hands on help you may need.
We visited so many places where they had a set schedule for the day, where you felt like just any other bride & groom that they needed you in and out in 24hrs. Plas Dinam allows you to create whatever you want for as long as you want. For example we stayed for 4 nights and created a ball pit photobooth in the stables
We can't wait to return for our 5th, 10th, 20th wedding anniversaries!
- Philippa C
July - 2021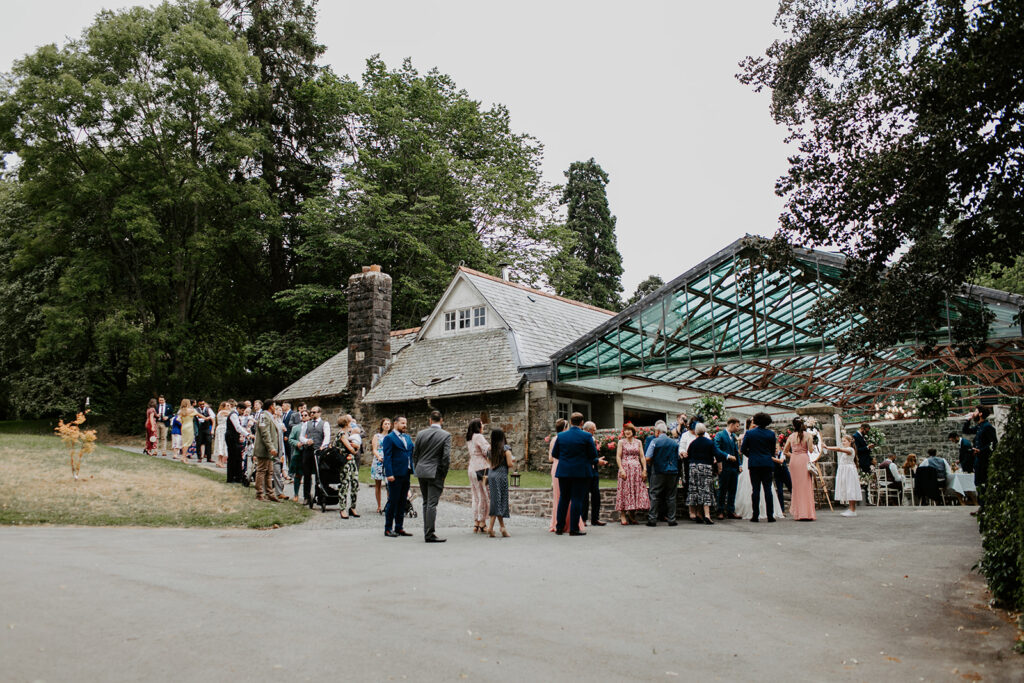 The perfect wedding weekend!
Plas Dinam Country House soon became our favourite place. From the moment we drove up the the winding path to the house, we knew it was the place for us. Not only could we enjoy the beautiful surroundings that Plas Dinam sits in, but we got to extend our wedding to enjoy a whole weekend at the house for our wedding. We arrived on Thursday to crisp sheets, enjoyed pizza facilitated by Tyson on Friday, our wedding on Saturday in the Stables and a BBQ on Sunday. We feel absolutely blessed!
Eldrydd allowed us to make the house our home for the weekend and no request was too big or none negotiable. They were kind throughout and determined to make sure that, despite to pandemic, we were to have the wedding we had planned at Plas Dinam. On the day Louise was never far to check how things were going and to organise the various suppliers who were a part of our day. Everything was so smooth and we trusted that Louise was in control. We will forever be grateful for their kindness, support and consideration throughout! Thank you!
- Olivia D
July - 2022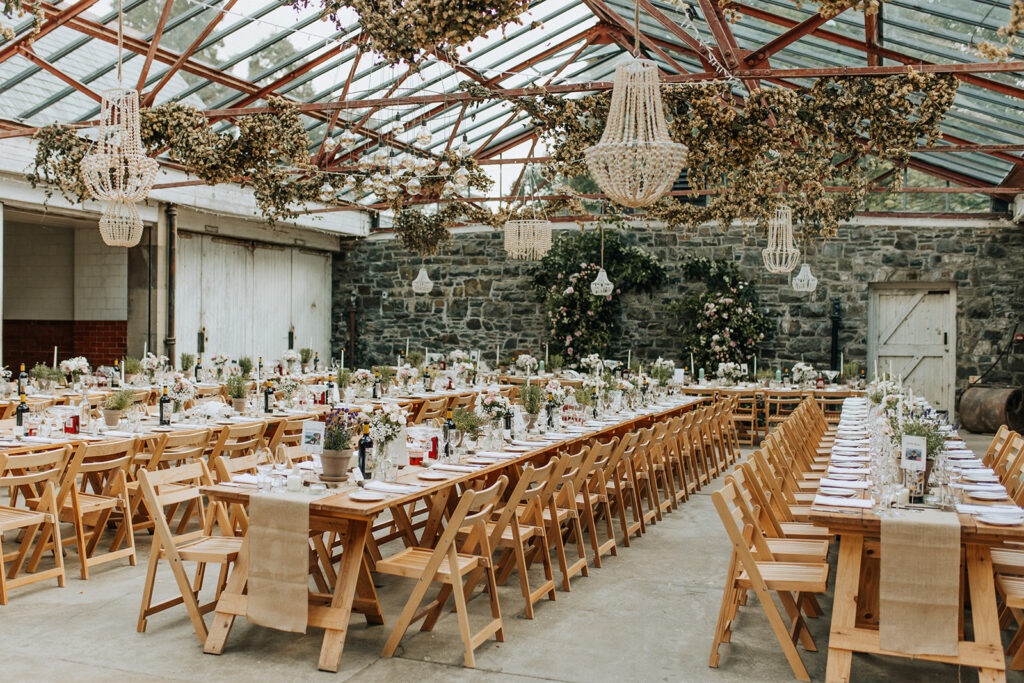 Beautiful Venue
Plas Dinam was the perfect venue for our wedding. The location is beautiful and the stables allow you to be as creative as you want. Eldrydd, Tyson, Katie and the rest of the team were amazing at helping with everything from start to finish. The are supportive and always on hand if you have any questions. The weather didn't look great in the morning and the Plas Dinam team were so accommodating In letting us have multiple options depending on what the weather did, eventually the sun came out at the perfect moment and we had our ceremony on the back lawn overlooking the beautiful views. Guests have not stopped telling us what a brilliant day they had. We stayed over the weekend which made the recovery slightly easier not having to rush off! The whole weekend was relaxed everything we were hoping for. Could not recommend Plas Dinam enough!
- Charlie B
April - 2022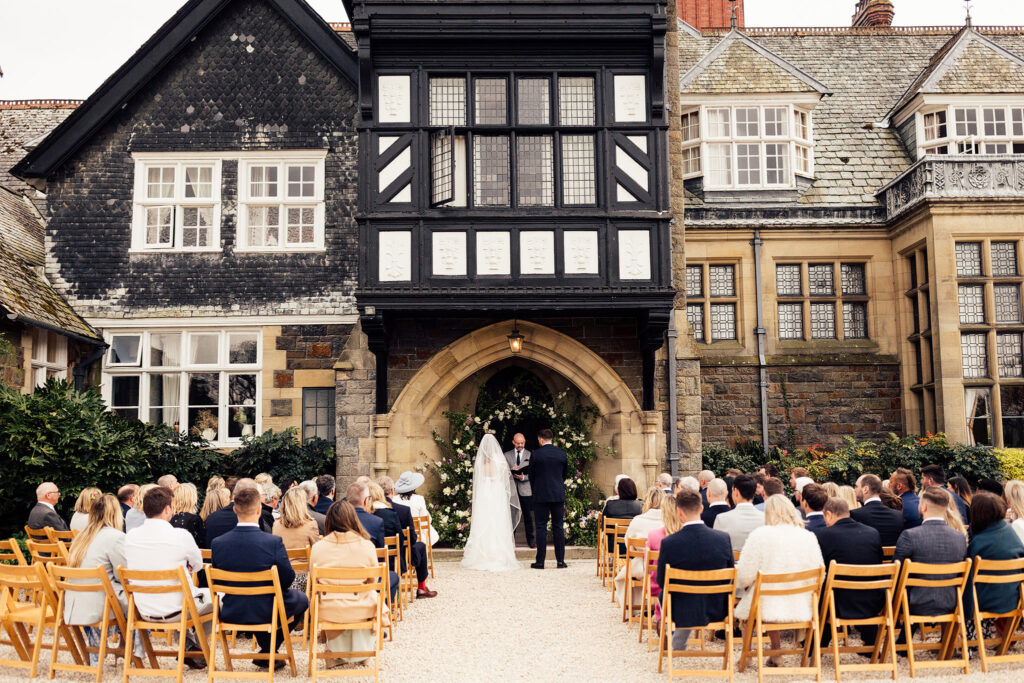 Magical location for the most memorable of occasions.
We are so pleased we chose Plas Dinam as a venue for our wedding celebrations of Charlotte and Adam. Eldrydd, Tyson, Louise and their team could not have done more to make it such a memorable, special time for us. They provided great support in the planning of the wedding and were happy to share their knowledge and experience of how to make the optimum use of the amazing house and grounds for the whole wedding weekend. The house, bedrooms and main rooms are to a very high standard. All of the bedrooms are comfortable and well furnished. The stables provided a perfect space for the wedding celebration.
We would highly recommend Plas Dinam for anyone looking for a wedding venue.
- Chris
July - 2022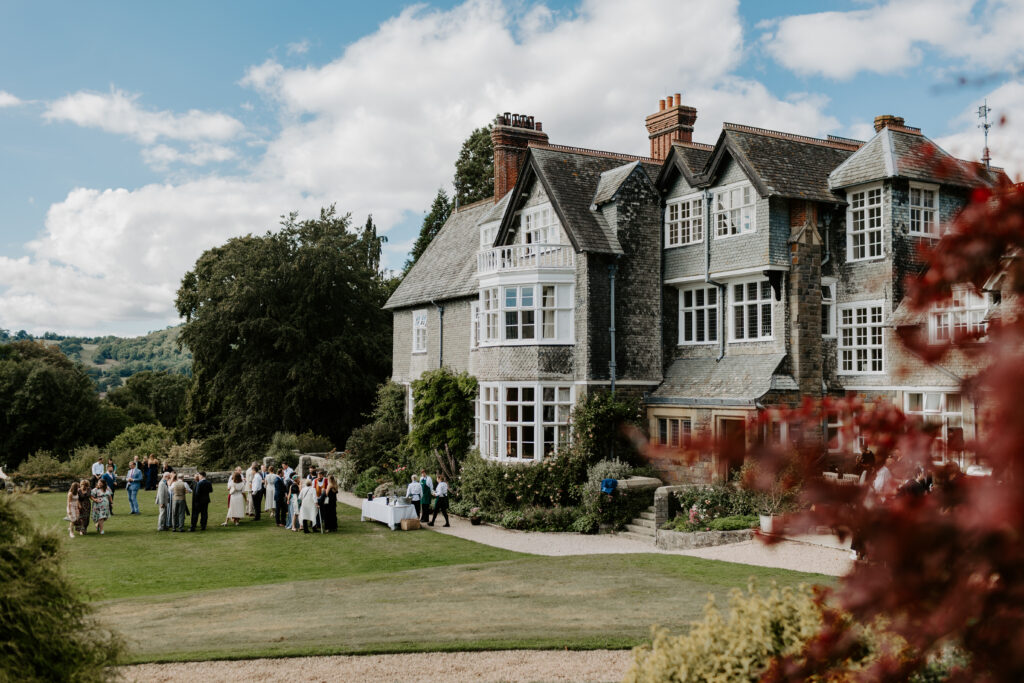 Perfect venue for intimate wedding
Plas Dinam was the perfect venue for the intimate wedding we wanted. Hearing all too often that wedding days are over too quickly, we decided from the outset to have a weekend wedding: four days of fun with our closest friends and family, with extended family and other friends joining us for the 'big day'. After visiting several venues in Devon, which weren't particularly luxurious but with huge price tags, we discovered Plas Dinam via recommendation. It offers 15 luxurious bedrooms, all individually styled exuding a perfect balance of vintage and modern. The grounds are stunning; you have the choice of tennis court, football pitch, croquet pitch, with a mini forest and stream, and horses in a nearby field to visit. The house is big enough to comfortably sleep 34 and although it's an old house, and there is a sense of grandeur, it isn't in the slightest bit ostentatious. On our wedding day we were 92 in the evening and it felt intimate. We couldn't have asked for anything more from the venue – Eldrydd (the PD's manager) has a excellent suppliers list to help you with all your requirements. Would highly recommend Plas Dinam for anyone wanting an intimate wedding in the gorgeous Welsh countryside.
- Jess
September - 2022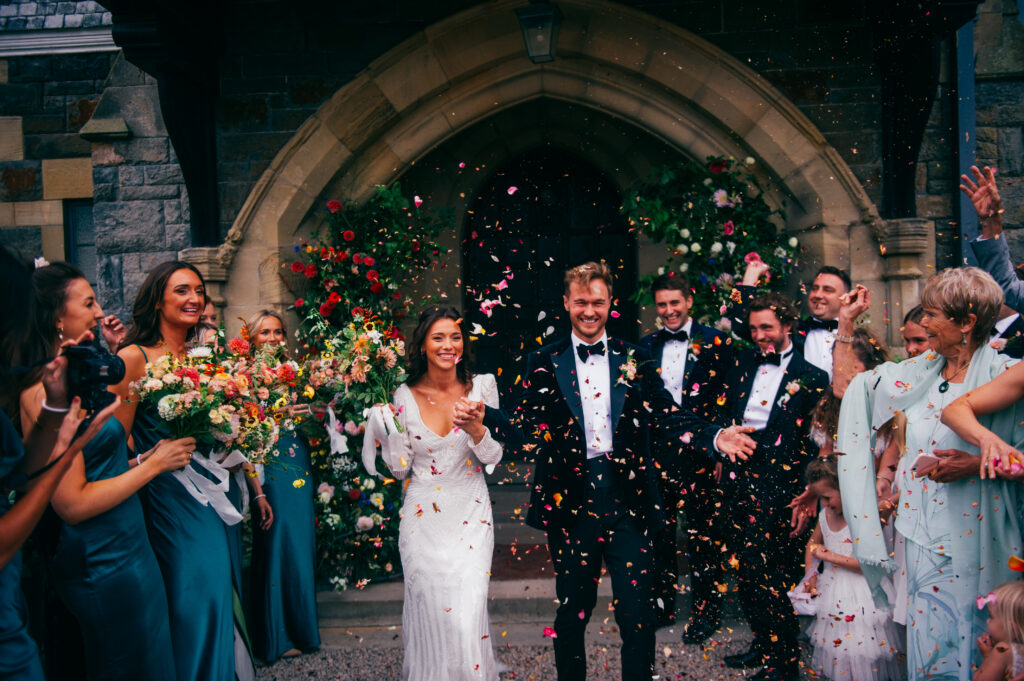 Just Fabulous
We got married at Plas Dinam this September and just wow, it was everything we could have dreamed of and more. It was the perfect venue and without a doubt the best weekend of our lives.
All of our guests were blown away by the house, the beautiful gardens and the surrounding scenery. Being able to have so many of our guests stay with us on site was so special and meant we were really able to cherish every second of the weekend. The Plas Dinam owners and staff were incredibly friendly and helpful throughout the whole process. Lou was particularly brilliant on the wedding day, making sure everything ran smoothly so all we had to focus on was enjoying ourselves. We absolutely loved the beautiful wedding barn and being able to add so many of our own personal touches. The atmosphere in the evening really was magical. We could not recommend this venue more highly, we have certainly made memories to last a lifetime. Thank you Plas Dinam!
- Ellie W