Capturing Weddings at Plas Dinam
We've invited wedding photographer Cassandra Lane to write a few words about one of the weddings she has photographed at Plas Dinam. Cassandra is based in Manchester and has been shooting weddings since 2011. Her speciality is colourful wedding photography that is relaxed and natural. Over to Cassandra…
It's such a pleasure to be asked to write a guest blog post for Plas Dinam Country House. I've shot at this luxury Welsh wedding venue many times over the years and it's a place I love to return to again and again.
Why do I like it so much? Well, for starters this wedding venue is simply gorgeous inside and out, which is a top priority from a photographer's perspective. The house features lovely wood panelling, boutique decor and big picture windows letting in lots of light.
Outside, the grounds are extensive and change with the seasons, offering plenty of variety to my wedding photographs each time I visit. Some of my favourite spots for wedding photos include the swing, the tennis court and of course the little greenhouse, which always features when I photograph a wedding here. Any wedding venue can be pretty, but what I love about Plas Dinam is that it's a venue with soul. The house is filled with little nooks and crannies and the venue is family run by a small friendly team. In short, Plas Dinam feels like a home. It's no wonder the venue attracts super cool couples from all over the UK.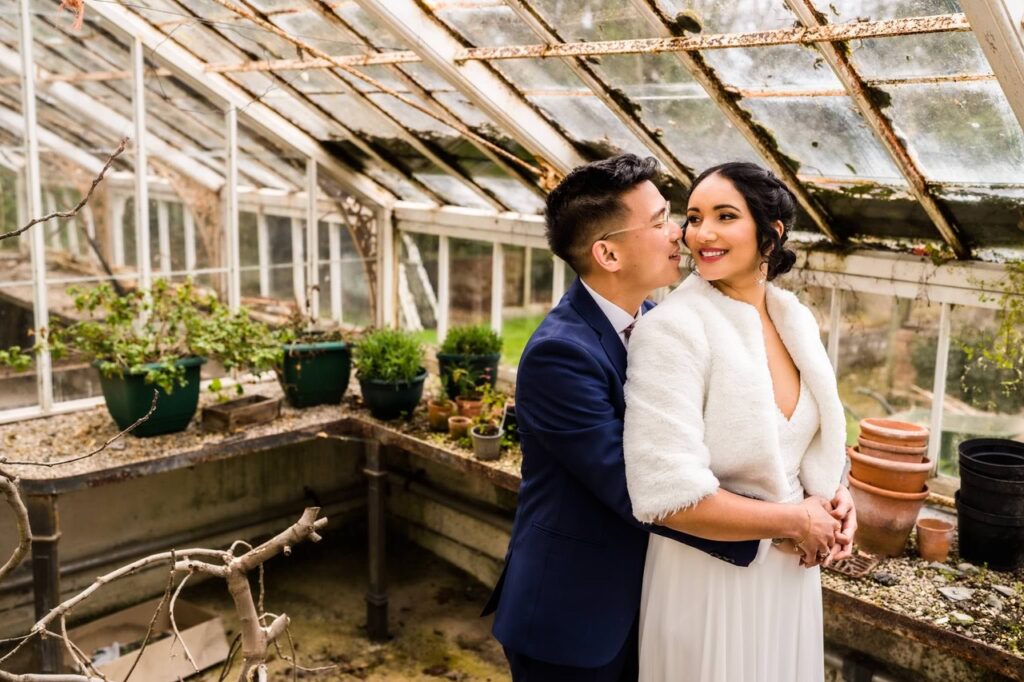 What's more, you can make Plas Dinam your home for the weekend as the venue offers exclusive weekend hire. I find that this really adds to the relaxed atmosphere and helps the two sides of the family to bond. By the time I arrive on a Saturday morning, the wedding party is already in full swing!
Colourful Weddings at Plas Dinam
Today I want to share some images from Bethany and Sam's colourful wedding at Plas Dinam. Their big day took place in April 2022 and was a relaxed, multicultural, and informal affair that was a whole lot of fun for all the guests.
Colour was a big part of Sam and Bethany's wedding decor, which I absolutely loved. Bethany carried a beautiful rainbow wedding bouquet by Perfect Bouquet Full of Flowers. Each of her bridesmaids wore a bold colour-block dress in magenta, yellow or cyan. The couple chose an outdoor ceremony underneath a colourful floral arch that really contrasted against the countryside landscape of Plas Dinam. My wedding photography work is very colourful, and this theme made this couples' wedding photographs really POP!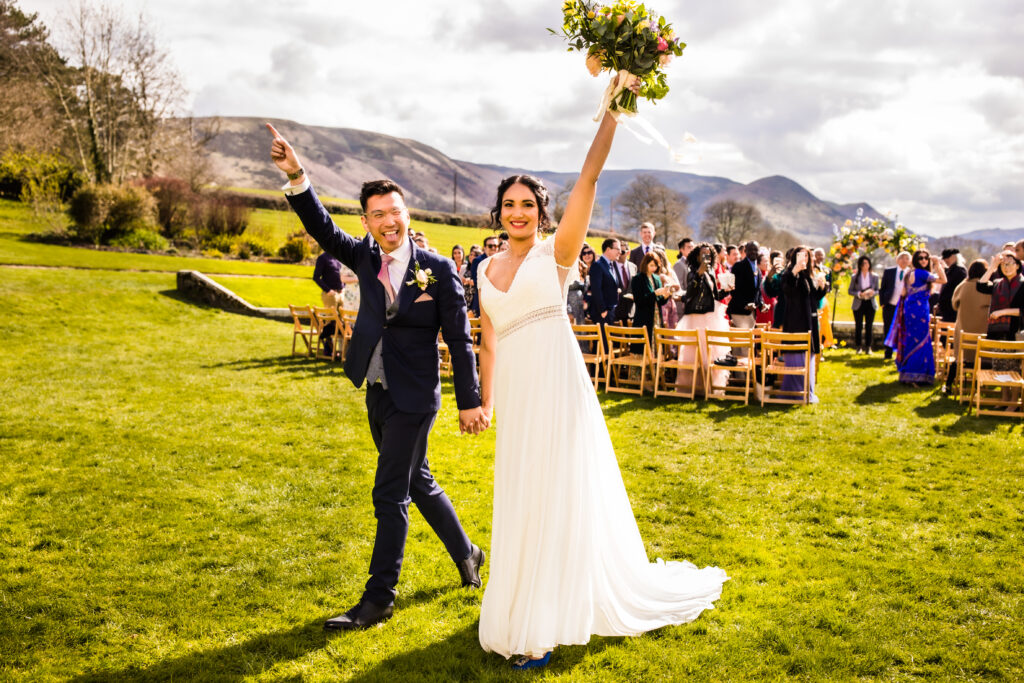 The wedding day
After Sam & Bethany's ceremony, the guests enjoyed drinks on the lawn in the spring sunshine, before heading into the stables for the wedding breakfast. The stables at Plas Dinam are a great space for a wedding reception. The room has a glass roof, making it feel like the outdoors has come inside, plus a lighting centrepiece that gives a lot of oomph to the space. Bethany and Sam chose to have long wooden tables for easy chatting between their guests, which were decorated with colourful yet simple wildflowers. They had also put some brilliant little personal touches into the reception, such as temporary wedding tattoos for their guests to wear and shots on arrival to the wedding breakfast. Now that's a way to get your guests talking!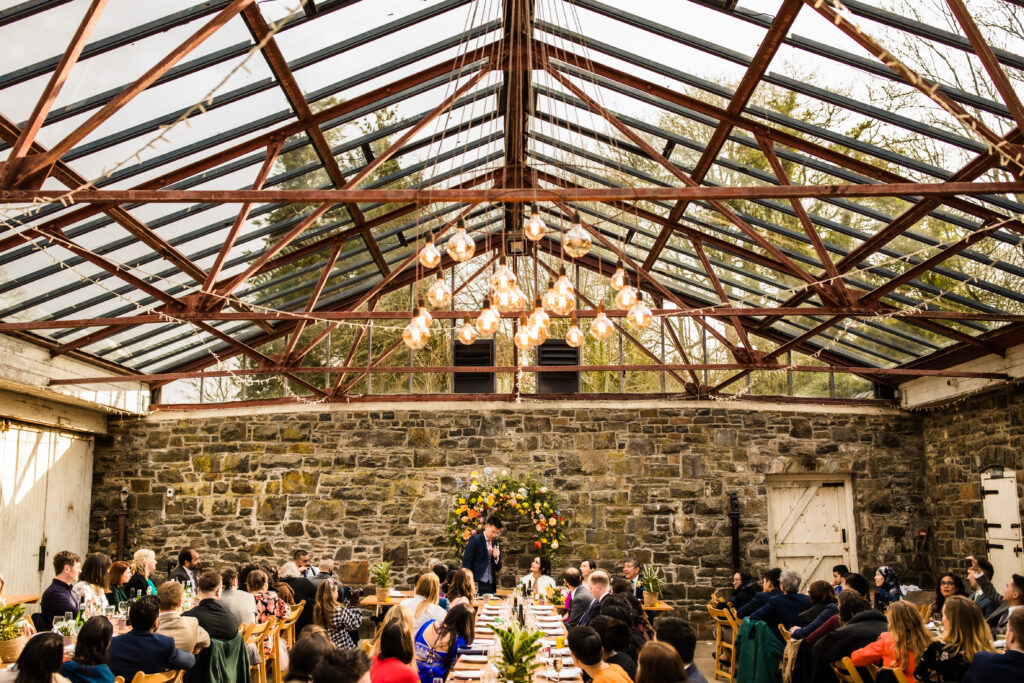 In keeping with their multicultural day, the couple chose Malaysian street food caterers 5 Foot Way for a delicious buffet wedding breakfast. This was a great way to keep things informal and make sure everyone mingled during this time. As night fell, the evening of dancing was kicked off with a special sparkler entrance around the fire pit.
Photographing weddings at Plas Dinam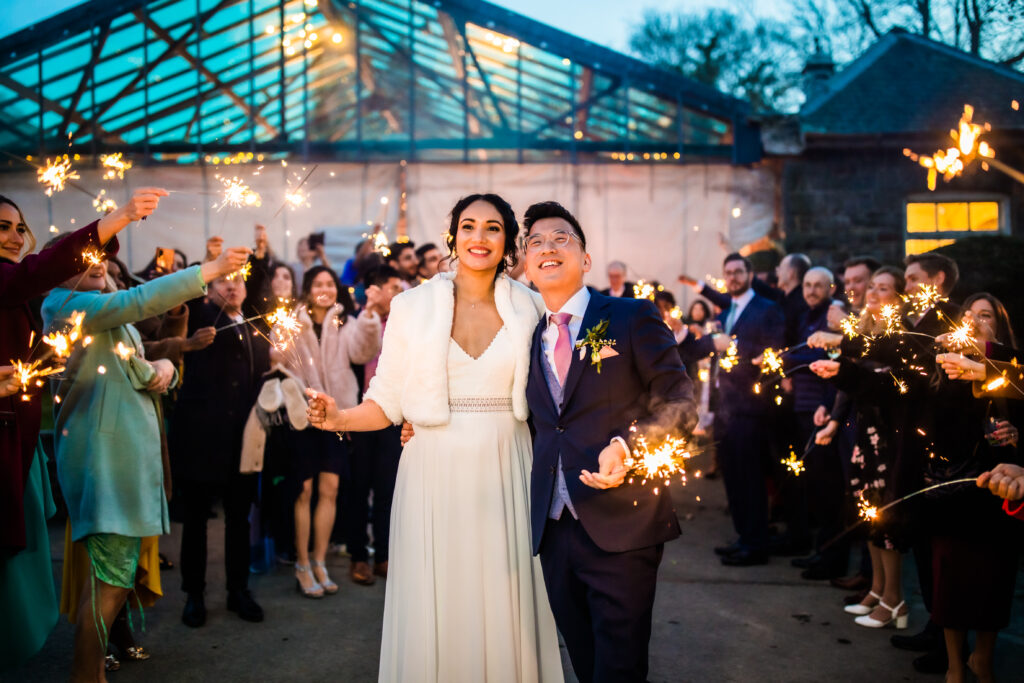 A big thank you to Bethany & Sam for inviting me to capture their wedding day and to Plas Dinam for asking me to share some words about it. You always offer me a warm welcome every time I visit Plas Dinam and I look forward to my next visit!
If you would like to see more of my wedding photography work, please visit my website
Wedding video of Sam & Bethany
Wedding Supplier credits
Photographers: Cassandra Lane & Kirstie Garlick / Venue:  Plas Dinam Country House  / Hair: Sass & Co / Make-up: Ami Streets / Flowers: Perfect Bouquet Full of Flowers / Dresses:  Marylise  / Suits: Penguin Suits / Food: 5 Foot Way / Cake: The Sugar Cart / Stationery: Matthew Lurcock / DJ: Clare Powell, Wedding Jam