Here at Plas Dinam we are passionate about doing all we can to make Plas Dinam as green as possible, and for the weddings and holidays enjoyed at Plas Dinam to impact the environment as little as possible. The grounds at Plas Dinam are full of amazing trees, wild flower meadows and wildlife, and some are very special. We have rare wild orchids, a mildew that has never been found in the UK before, and ancient trees!
Wonderful though they are, weddings do have the potential to be wasteful if you aren't careful. Guest travel, new outfits and those single-use decorations that look so gorgeous but end up in the bin, plus excess packaging on gifts, can all contribute to the carbon footprint of your big day. But the good news is that there are many things you can do to have a greener celebration, and none of them needs to break the bank.
Here, we look at some sustainable wedding options:
1. Choose planet-friendly sustainable wedding flowers
If you can, go for flowers which are seasonal and, as far as possible, locally grown. But it's also worth thinking about how you use your blooms. Many florists, for example, are binning synthetic foam in favour of more eco-friendly materials such as chicken wire and moss, both of which you can use to put together stunning displays, including hanging installations or floral arches. If you are planning an autumn or winter wedding, consider asking your florist to dry flowers the summer before. They can look really stunning! Hops too can be dried and can be delivered green, out of season! We have local florists on our list who grow all or most of the flowers they use.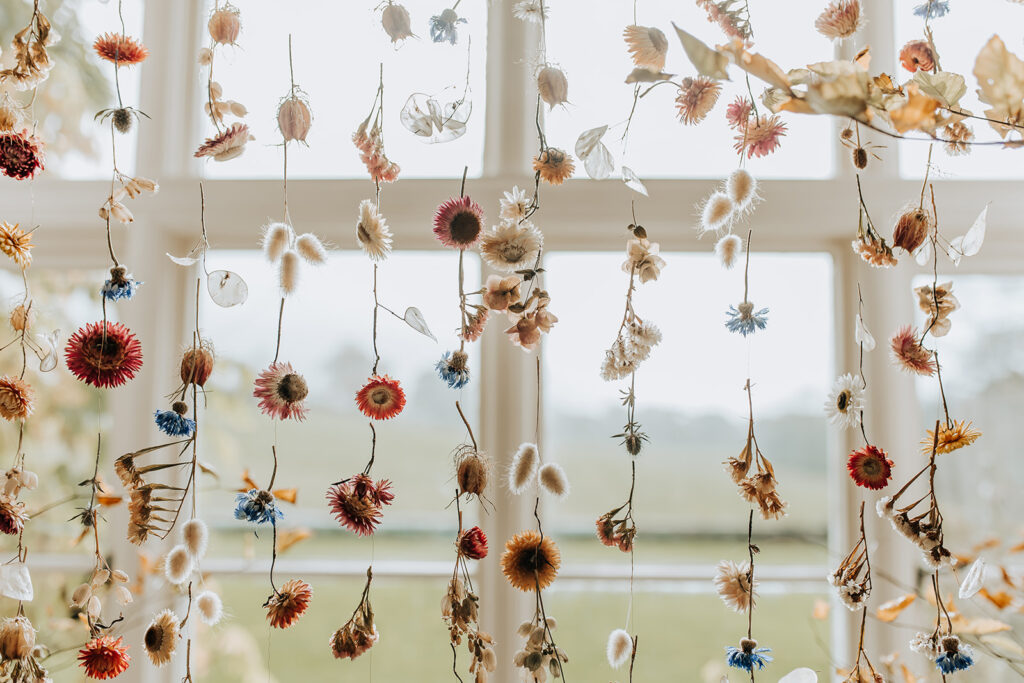 2. Eco-friendly wedding invitations & cards
Weddings are often quite paper-heavy, from invitations to RSVP cards, printed accommodation lists
and directions and save-the-date notes. That's without the table plan, numbers and place cards.
Think about going digital for as many of your communications as possible, use a wedding website,
and if you do use some, opt for 100% recycled stationery.
3. Eco-friendly wedding gifts
Clearly, the original idea of wedding gifts was to set the couple up for married life with everything they needed for their first home together. Cohabiting has meant the traditional wedding list has changed. Rather than asking for gifts you may not really need, with all the additional packaging that entails, consider asking for contributions to a honeymoon or an environmental charity or a tree- planting scheme.
4. Do the planet a favour – use eco friendly wedding favours and decorations
Unless they're edible, many wedding favours will realistically simply be binned after your big day. Think of something that doesn't have excess packaging. Either choose something your guests will actually want to keep, or something like decorated cookies (unwrapped) which can have names piped on to them – these can also double as place 'cards'. The same goes for decorations – avoid anything that's going to end up in the bin once the celebrations are all over. Select ones which are recyclable or reusable.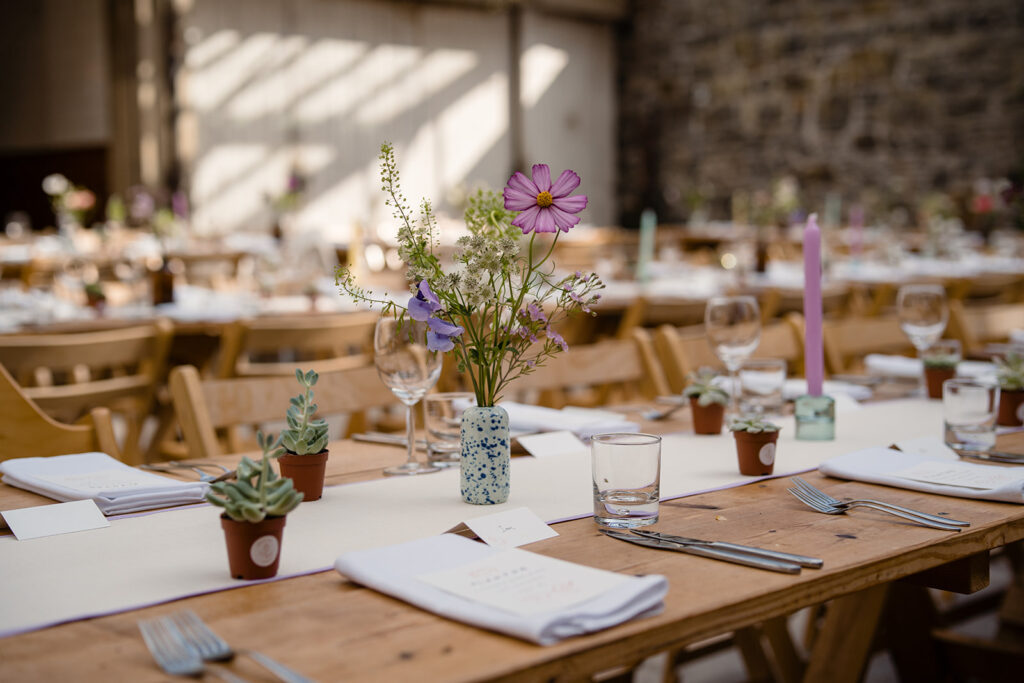 5. Working with sustainable wedding suppliers
Aim to work with sustainable suppliers who use local produce. When planning a menu, try to stick to seasonal dishes to reduce food air miles. Consider British fizz and wines, it can be excellent!
6. Something old, nothing new, something borrowed, something renewed
Consider hiring your outfits, and share the idea of hiring with your guests. There are many excellent websites you can use. Or you could buy a used outfit. Both options reduce packaging and waste. We end up with so many shoe boxes in the bin!
Sustainable weddings at Plas Dinam
At Plas Dinam, sustainability is part of our ethos. After all, we're very aware of how beautiful our part of the world is – and we want to keep it that way!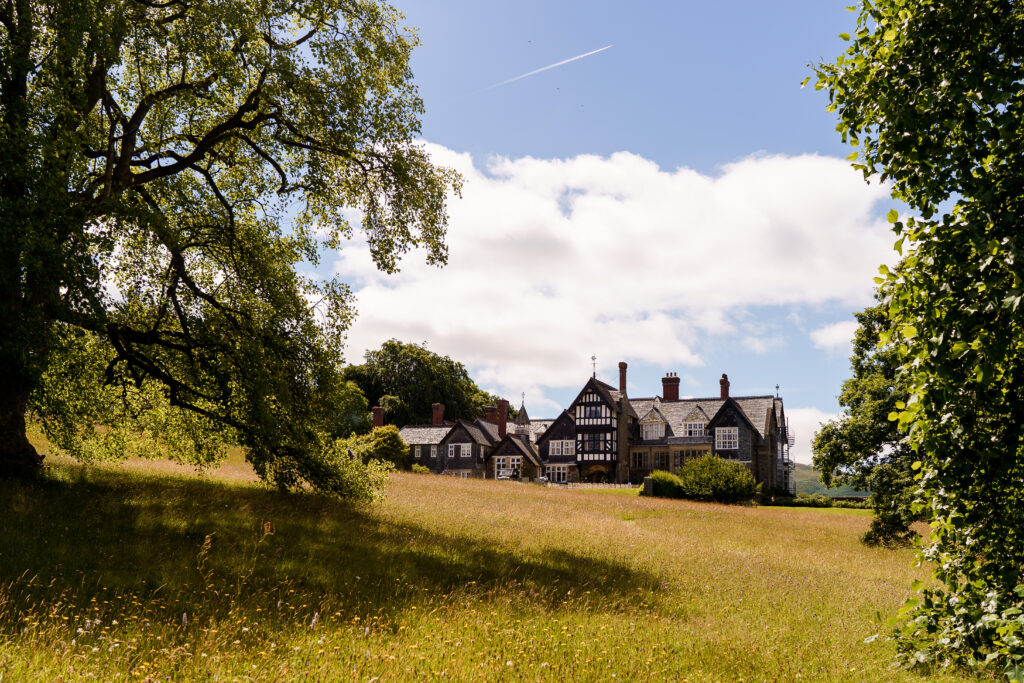 We also recommend local suppliers including caterers, florists and the like who share our sustainability values. Talk to us today about how we can help ensure your special occasion doesn't cost the earth – in more ways than one.
You can read more about our commitment to making Plas Dinam an eco-wedding venue on our
Ethos page.