Are you considering having your dog taking part on your wedding day, or at least staying with you over your wedding weekend? Plas Dinam is a dog friendly venue and has a long history of dogs (mainly spaniels) living here and enjoying the space in the grounds. Here we explain the pros and cons and chat through some ideas of how to include your dog in your wedding at Plas Dinam.
Why would you not want your four-legged best friend by your side on this most special of days? Your loyal canine buddy has been with you through thick and thin, during good times and bad, so it's entirely right that they should be there when you say 'I do'.
Clearly, you'll need to think a few things through first. The venue will need to have a dog-friendly policy, and it's worth appointing an allocated dog-sitter to keep an eye on your much-loved pet during those parts of the day when you'll be busy. (Ideally, they'll already be familiar with the animal.) Equally, of course your dog will still need to be walked, fed and watered as usual.
You may also want to consider any guests who may be allergic to or feel nervous around dogs. (That also extends, by the way, as a courtesy, to the registrar or celebrant who will be marrying you.)
Think about the logistics, and your pet's personality – how much do they like being around people, for example? Consider whether the wedding venue will be entirely suitable for them, and, finally, pack a few of their favourite treats so that they feel as special as you will on the big day.
Involve your dog
There are many ways you can include your pet in your wedding. They can act as ring-bearer, for example, or walk down the aisle by your side. They can even be 'best man'! Alternatively, they could simply enjoy the occasion and being among the guests during the reception, where no doubt they will love being the centre of attention and having a big fuss made as drinks and canapés are served. However you involve them, dogs certainly add an extra layer of gorgeousness to your wedding photos.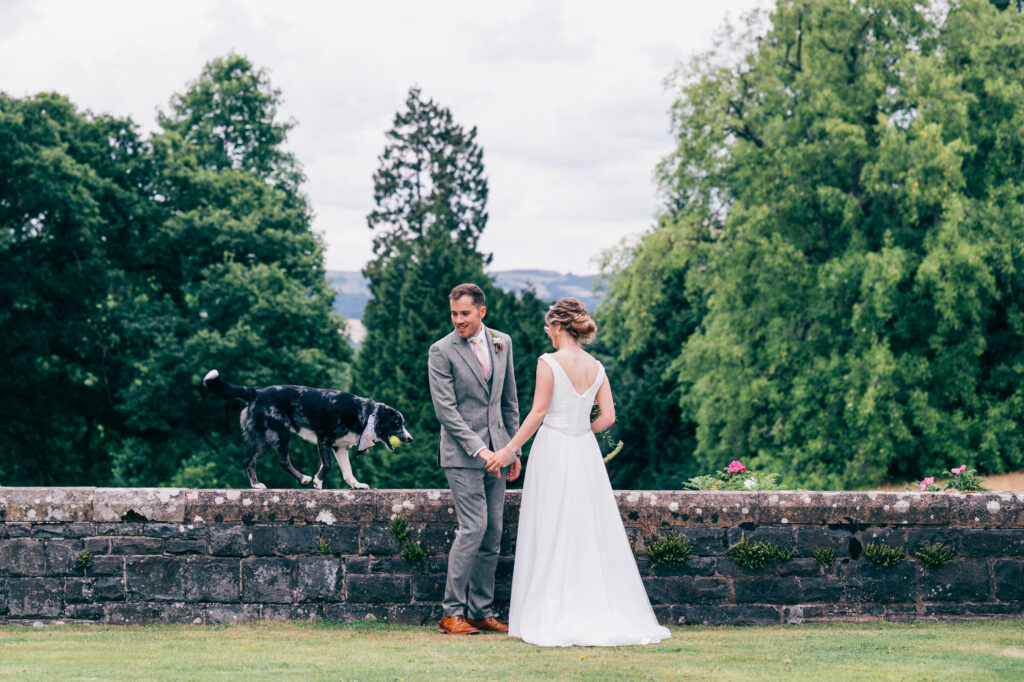 Plas Dinam: a dog-friendly wedding venue
Here at Plas Dinam, we firmly believe that dogs are family members, just as much as humans are. So why leave them behind? We're proud to be a dog-friendly wedding venue, and happy for you to have up to three dogs in the house during your time with us. They can stay on the lower floor of the house (in the uncarpeted rooms) for a modest extra charge.
The other great thing about bringing your dog here is that we have plenty of space where you can take your pet or pets for a good long walk, or they can run around in the grounds. Woodland, bushes, rabbits and pheasants included! They certainly won't feel cramped.
As another option, we're happy to recommend the kennels in nearby Llanidloes if you'd rather have Rover looked after on the day of your marriage itself. Often, the kennels will even come to the site and collect the dog for you.
Talk to us if you want to bring a dog to Plas Dinam for your celebrations – we'll gladly answer any queries you may have.