If you are planning on 60 guests or 160, the Stables is a wonderfully versatile and unique space for your wedding. Dining under the glass roof, with your ideas and decorations, surrounded by all your family and friends will be something you will cherish for your lifetime! Dining tables can be arranged in all sorts of different ways, here we share our advice and top tips to make it the best, depending on your number of guests. 
We have tables that are 6ft or 10ft long and 2ft 6 wide. The 6 ft seat 3 down each side or 6 total, the 10fts 5 down each side or 10 total. It's also possible to add a person on and end, though it does get a little tight for space. We have 10 x 10 fts and 10 x 6 fts to play with.
A Top Table?
We know this can be a difficult topic! Many couples do have one, many don't. Some with people sitting on one side, often on both sides. This can be situated along the back of the Stables courtyard along the back stone wall ( a great blank canvas for decorating).
Top tip- start by working out the number of guests on the top table and what table length you will need before moving on to the rest of the layout.
There are pros and cons of each option, so let us help you decide.
Herringbone layout
This is a great way to help fill the space if you have less than 100 guests. First, decide if you'd like a top table, then work out how many guests will sit on it. For the remaining guests divide the number by two, and from there you can work out how many table you need on each side of the room.
We have 10 x 10 foot tables, so if you have up to 100 guests you could have 4 or 5 tables of each down each side seating up to 10 on each. However, if you have used the 10 foot tables on the top table and don't have enough remaining, we advise using the 10 foot table down the left hand side and 2 x 6ft tables put together to make a 12 foot table, seating up to 12, down the right hand side of the room.
PROS: It's a sociable number on each table, with guests able to chat to their neighbours or across the table, and looks fabulous whether you are going for an industrial, chic, boho or rustic look to your wedding.
CONS: If you have more than 120 guests we would not recommend this layout as it comes too close to the bar.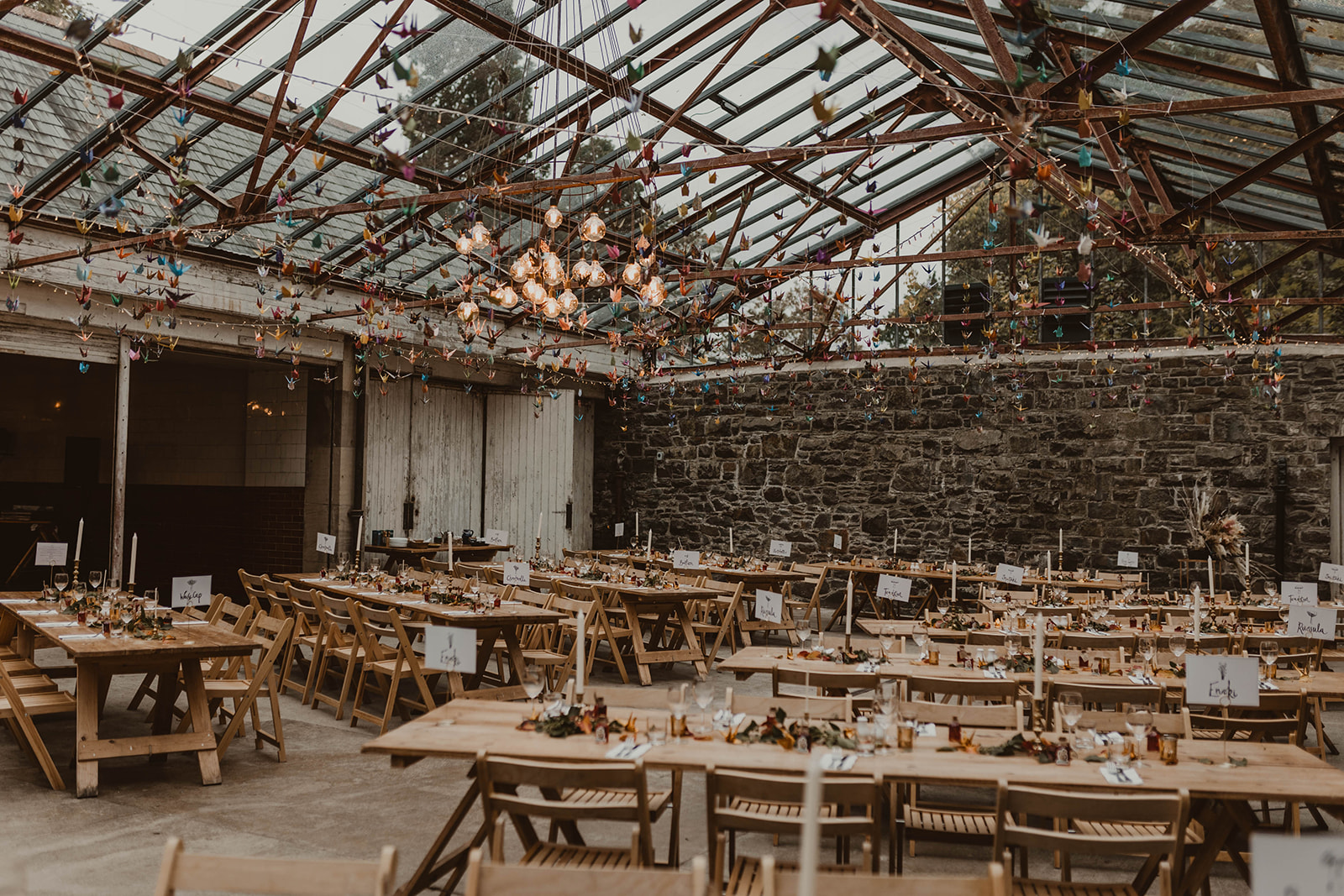 Long Banquet Tables
3 long banquet style tables looks fabulous down the length or the room, with or without a top table. This layout creates a more uniform look but ideally needs 100 guests or more so that each table is long enough to look right. If you have 120 guests, with a top table of 10 guests, then you would have 18 guests down each side of the long tables, which we could do with 3x 10ft and 1x 6ft table. We sometimes call this a cricket stump layout.
If you are more than 120 guests, you may need to have 4 rows of long tables, depending on how many guests are on the top table. The disadvantage is that there is less room near the dance floor and the entrances to the toilets, but the advantage is more room around the bar area, as the tables are shorter. For example, if you have 150 guests you can have 4 long tables of 35-40 guests on each table. Ideally slightly shorter tables near the dancefloor and longer tables towards the main entrance. The result is an incredible atmosphere and a pumping party!
Round tables
Plas Dinam does not have round tables but you are welcome to hire them in. If you have less than 120 guests they can be a good idea as can be spaced to fill the space nicely. Beware your guests may only be able to speak to the guests either side of them.
If you'd like to speak to us about different options for your wedding day contact us today.