While you may reckon that spending one night at your wedding venue is quite enough, in fact there are many good reasons to stick around for longer.
After all, how often do you get to have all your friends and family in the same place? (And a beautiful one at that.) Make the most of it over a full weekend and enjoy some quality time with those closest to you that you may not have the chance for on the busy big day itself. Here's how you could spend the extra time at Plas Dinam, the perfect weekend wedding venue.
Looking for pre-wedding party ideas?
If you're looking for pre-wedding party ideas, we can help. If you arrive on the Friday before marrying the next day, you're likely to be busy. So we'd suggest either keeping any gatherings on the eve of your wedding really simple. Alternatively, come on Thursday instead, and get really settled in ahead of your big day.
There'll be unpacking to do and maybe putting information for your guests in their rooms, and names of who's staying where on the doors. You may also want to take delivery of a Tesco order or unpack any food you've brought yourself. You might want to decorate our Stables venue and stock the fridges with wine. Delegate where you can – as we said, there'll be a lot to do.
But by the evening most things should be in place, giving you time to kick back, enjoy a drink and catch up with your guests. Remember, you'll have at least 34 people onsite, so inviting more on Friday night to join them could get a little overwhelming. It may be best to keep things simple and just socialise with those already staying in the house and grounds.
Here are a few ideas for how you could cater for your guests on the eve of your wedding:
Wood-fired pizzas
Local supplier Andy's Bread can deliver your pizza dough and tomato sauce, so you just need to sort out your favourite toppings for a delicious feast, which you can cook onsite in our dedicated pizza ovens – it's all part of the fun!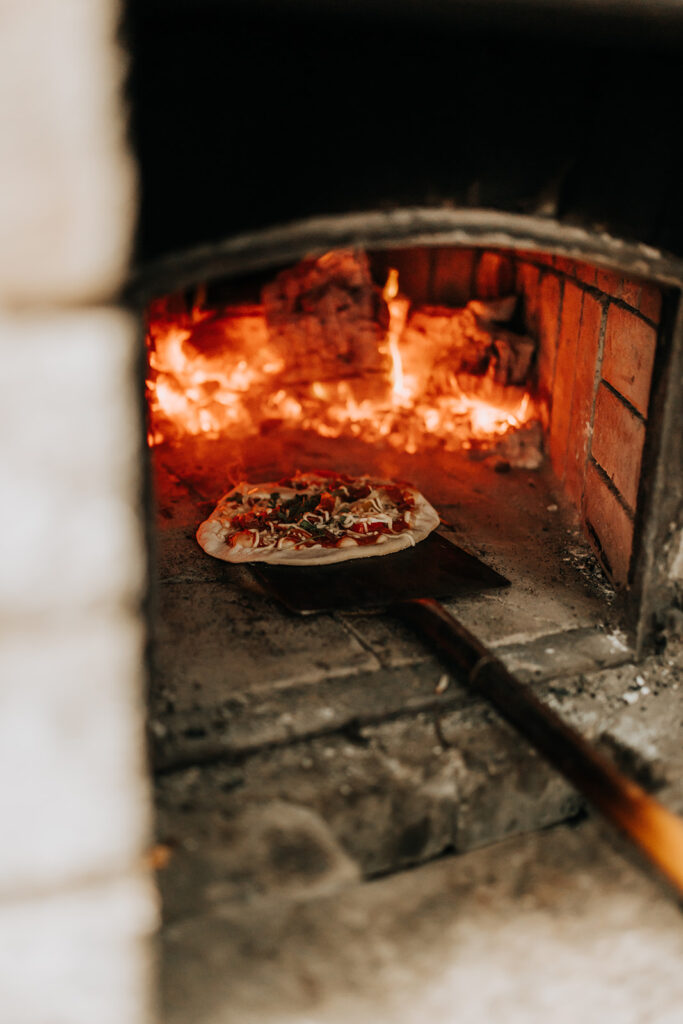 Hire a chef for dinner in the dining room
Our dining room is a stunning space, especially in spring and autumn. Seating up to 40 comfortably, this is a lovely way to ease into your celebrations. Take your pick from the chefs on our trusted suppliers' list.
Enjoy a barbecue on our lawn
In the summer months, there's just one place to be at Plas Dinam, and that's on the lawn, where you can make the most of the backdrop of stunning hills. Our local butcher can deliver a great selection of meat, most of it farmed locally. Plas Dinam has a large gas barbecue, and we'll gladly supply the fuel.
Toast some marshmallows on the bonfire
Above the front lawn there's a big fireplace with benches. Settle in for a couple of hours, gaze out at the sunset and view, and chat and toast away! How about making s'mores? (A US campfire treat in which you layer chocolate and toasted marshmallows between two wafers.)
Wedding morning ideas
Obviously this is a time when the bridal party are busy getting their hair and make-up done. But other guests may want to get out and about. We have plenty of inspiration for wedding morning ideas, from a spot of tennis to a fell run or a swim in the 'secret' lake, or a game of billiards or table tennis. We can also organise falconry, yoga or a pampering session – or perhaps you'd prefer a quiet woodland stroll or a few moments in the library ahead of the big occasion?
Or consider some real country pursuits and go shooting or fishing.
We're also full of post-wedding ideas!
If you're looking for post-wedding ideas, a day-after wedding party or gathering can feel really relaxed. It's a lovely time to chat and catch up properly with guests without the pressure of the wedding day, and dissect the events of the day before. In you wanted to, you could consider introducing a theme such as country or a colour to your day-after wedding party.
Here are some great post-wedding ideas you can enjoy at Plas Dinam:
Hog roast on the lawn: See our list of recommended suppliers for inspiration. We recommend using the stretch tent or the Stables as wet-weather back-up.
Stables party: Ask your caterers to provide a relaxed dining option in the Stables, such as a grazing table or burgers, for your day-after wedding party. Why not add hay bales and different décor for a more laid back party and get your guests to get stuck in with DJing? It'll be neigh bother!
We can help with the planning for all of these options. There will be details to think about from glassware to furniture, but let us help. If you're planning on having more than 50 guests to another "do" there'll be extra charges, so let us know your plans and we'll work it out.
Have a think about how you'd like to spend your precious time with your guests and talk to us. Whatever your dream wedding, we'll help you make it a reality.